ENGLISH MASS
---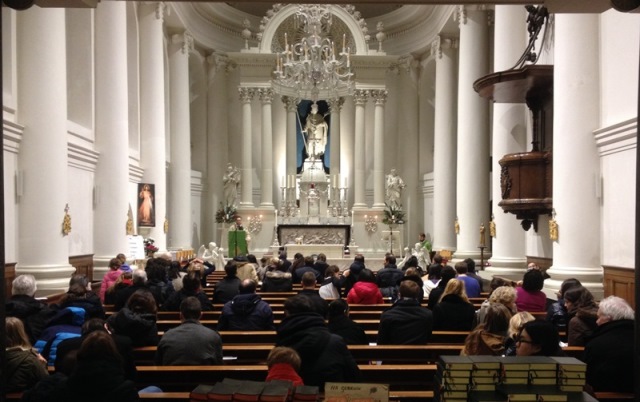 Welcome to the website of the Sint Lodewijkskerk. The English translation is, "The Church of Saint Louis". The Sint Lodewijkskerk is situated in the center of the city of Leiden in The Netherlands. Our group of English speaking parishioners, who are visiting and actively participating in our parish-life, is expanding. We hope that also you will have a warm welcome and have "a-home-away-from-home" in our beautiful church.
English Mass and more.
You are also most welcome to join us in our DAILY MASS , and especially in the English mass, which is every Sunday at 17.00. Every first Sunday of the month, there is "Meet & Greet": coffee after mass, which is a wonderful opportunity to meet and socialize with each other. During Summer, there is no English mass for a few weeks. You are more than welcome at the Sunday Mass at 10.00 am.
Please meet our parish priestS
Father Jeroen Smith
Parish priest and responsible for our church.

Father Lucas
Brazilian priest that lives in Leiden
24-Hour Adoration project
We are a very active church, and we also believe that prayer supports everything that we do, therefore, we have the adoration chapel (John Paul II chapel) which contains the venerated relic of John Paul II. Every week from Friday 14.00 o'clock until Saturday 14.00 o'clock the chapel is open for adoration. If you would like more information or if you wish to help us by "adopting one hour" then please send us an This email address is being protected from spambots. You need JavaScript enabled to view it..
You can also find us on:
- Tripadvisor
- Wikipedia
Best regards and we hope to see you in our church.